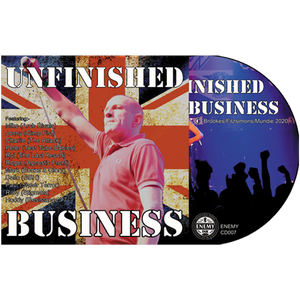 This product is best for orders in North America.
Click here for UK and EU product 
The Unfinished Business project has been made using the demos that were earmarked to be the next album from The Business, they were put together by Fish and Bundie from the band prior to the passing of founder member and vocalist Micky Fitz. These demos have now been completed thanks to friends of the band who have lent their vocal talents.
The album consists of 10 new previously unreleased songs and is being released as a stand-alone record, so this is not an album by The Business as nothing could be without Mick's inimitable vocals. It's taken a number of years to put together, the music was recorded in a studio at Fish's house and the various vocals have been recorded in various studios, kitchen, living rooms and garages around the world and will be available on 12" LP, CD and all Digital Outlets.
It was important to Fish and Bundie to finish this project in tribute to Mick and have completed it with the blessing and approval of his family.
The project has been released via Enemy Ink Records and the track listing is as follows;
Eton Wankers – Feat Mike Brands (Arch Rivals)
Opinion Piece – Feat Jonny (Gimp Fist)
Yesterday's Heroes – Feat Charlie (The Attack)
Common Goals – Feat Peter (Test Tube Babies)
Death and Taxes – Feat Roi (The Last Resort)
The Fourth Wall – Feat Roger (Agnostic Front)
There's No Oi! In Team – Feat Mark (Booze and Glory)
Start Again – Feat Colin (GBH)
Absent Friends – Feat Paul (Sheer Terror) + Riley (Stigmata)
Swan Song – Feat Hoddy (Resistance 77)
The Last Swerve – Magdalena Czerwinska