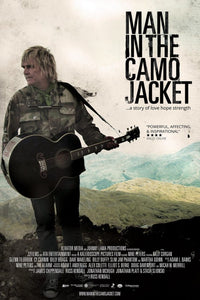 The story of iconic Welsh rock musician Mike Peters (of The Alarm), his rise to fame, battle with cancer, and inspiring climb back as he enlists some of the world's top musicians to help save the lives of cancer patients around the globe. Ultimately though, the life he saves may be his own.
Man in the Camo Jacket is a feature-length documentary film. The film will hit the road with an accompanying bone marrow drive at each screening, leading to thousands of new donors and the potential for thousands of lives saved.
Filmed over the course of eight years, the film documents Mike's journeys to the summits of the world's tallest mountains and to the depths of his regular chemotherapy treatments and features one of a kind performances from legendary rock musicians.